With this new award, H3O technology amasses more than ten awards on innovation and sustainability.
The Smartomizer High Density H3O, developed by Pulverizadores Fede, has won the Technology Innovation and Safety Award in the Design of Agricultural Machines and Agri-Food Industry Equipment of the Fira de Lleida within the framework of the 67th Fira Agrària de Sant Miquel, benchmark of the agricultural machinery meetings in Spain due to its historical trajectory and great specialization in fruit crops.
This sprayer is a smart and connected equipment to carry out localised applications in super-intensive plantations. The Smartomizer High Density H3O is destined apply treatments on a large scale and with maximum uniformity in fruit plantations. This air blast saves up to the 40% of the application's volume, carrying out effective localised treatments in this kind of demanding crops.
In addition, the H3O technology makes the High Density to become a Smartomizer, an intelligent and connected device. The H3O system is an agronomic management tool that allows to regulate and automatically adjust the application of phytosanitary treatments according to the tree row volume. Furthermore, technicians and operators send work orders directly to the Smartomizer High Density H3O in order it regulates itself automatically. The technology is proactive since it shows in real time the treatment in progress with all the parameters of the spraying (geolocated visualization on the map of the plantation) and it sends warnings in case of error so it can be corrected. Once the treatment is finished, all the spraying data is recorded and can be visualized on the digital platform. Thus, real traceability is obtained and it enables to take better agronomic and business decisions.
The contest's jury highlighted that "through a new design and intelligent technologies, the equipment achieves a uniform application of the product adjusted to the tree row volume, which results in savings in the phytosanitary treatments, greater efficiency and savings. In addition, the equipment is very useful, since it records all the data of the spraying to obtain the real traceability".
Pulverizadores Fede participated in the 67th Fira Agrària de Sant Miquel by together with its distributor Vibasa, who presented the nomination for the award. With this new recognition, the H3O technology already has more than ten awards on innovation and sustainability.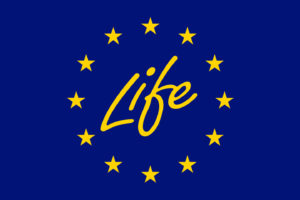 With the contribution of the European Union's LIFE Programme, the EU's funding instrument for the environment and climate action, under grant agreement LIFE18 ENV/ES/000349.